Inolife Appoints Two Renowned Pharmaceutical and Medical Industry Experts to C-Level Executive Positions
Inolife names Dr. Claude Vezeau as Chief Clinical Officer and Dr. Nadeem Siddiqui as Chief Scientific Officer, adding combined five decades of medical industry and research experience to Inolife's executive leadership.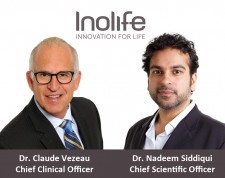 TORONTO, May 18, 2018 (Newswire.com) - Inolife R&D Inc., an emerging innovation leader in the development of needle-free injection devices, today announced two new key executives joining the company. Effective immediately, Dr. Claude Vezeau is the company's CCO and Dr. Nadeem Siddiqui is Inolife's CSO.
"One of my primary areas of focus for 2018 has been to add outstanding capabilities and experience to our leadership team," said Mr. Michael G. Wright, president and CEO, Inolife. "I am proud and excited to welcome Claude and Nadeem, who are both seasoned industry executives with a track record for strategic thinking and leadership excellence. Their passion to help Inolife capitalize on new opportunities and realize our healthcare mission is an invaluable addition to our company."
The naming of our CCO and of our CSO will give us the opportunity of planning and advancing Inolife's long-term strategy, while also managing external challenges and engaging with government policy and industry leaders.
Dr. Vezeau is responsible for envisioning, developing and managing Inolife's expanding clinical capabilities, including critical areas of compliance, evidence, validation and utility reporting for the company's product offerings. Over the course of his career Dr. Vezeau has held a number of senior positions in the biopharmaceutical industry, including as a partner in BioCapital, the first and very successful private biotechnology VC in Quebec, and as President of Biochem Vaccines, a leading developer and manufacturer of human vaccines.

Dr. Siddiqui is responsible for Inolife's scientific operations, including research & development across the full spectrum of applications. He is also the executive liaison tasked with connecting the company with the scientific community at large. He joins Inolife with over 20 years of medical research experience and is a respected peer journal-published author of studies on diverse topics, including structural biology, protein synthesis, RNA metabolism and cancer.

"The naming of our CCO and of our CSO will give us the opportunity of planning and advancing Inolife's long-term strategy, while also managing external challenges and engaging with government policy and industry leaders," said Mr. Wright. "This is an exciting and dynamic time in the healthcare industry, and Inolife is better equipped than ever to be an innovation leader by example."

About Inolife R&D Inc. / Inolife Sciences Corporation
Inolife R&D Inc. is an emerging specialty medical device company focused on developing and commercializing novel drug delivery technologies. Inolife commercializes patented and FDA-cleared needle-free injection devices. The company was founded to take advantage of novel techniques of the liquid jet and ballistics-based epidermal drug injection that improve patients' quality of life by making medicines easier to administer, work better, and remove the anxiety and inconvenience associated with hypodermic needle injections.

For more information about Inolife and its products, please visit www.inolifesciences.com.

Contact:
Michael Wright
President & CEO, Inolife R&D Inc.
Phone: 1 (866) 834-3777
Email: mwright@inolifesciences.com

Source: Inolife

Share:
---
Categories: Healthcare and Medical News
Tags: Claude Vezeau, Inolife, Nadeem Siddiqui

Martin Beland
VP of Marketing & Communications, Inolife Sciences Corporation
Inolife Sciences Corporation
1, Yonge Street (Suite 1801)
Toronto, Ontario M5E 1W7
Canada