Inolife Announces the Closing of Its Final Private Placement and the Naming of Dr. John Leombruno to Its Board of Directors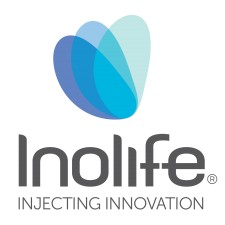 TORONTO, August 23, 2018 (Newswire.com) - Inolife R&D Inc. ("Inolife"), an emerging life science company and an innovation leader in comprehensive and cutting-edge Injectable Pharma Solutions, is pleased to announce that it has closed its final private placement. The $2 million round was oversubscribed.
Proceeds exceeded the originally announced target of $2 million due to high investor demand and will be used by the Corporation to finance its manufacturing, marketing, regulatory, general and administration expenses.
Substantial Strategic investments were made by Dr. John Leombruno and Dr. Daniel Vermette. Both men are among the most successful and renowned Canadian pharmacists, as well as strategic investors with a record of success and decades of experience in the pharmaceutical industry.
"The high level of interest in our private placement demonstrates the market's trust in the value our solutions are creating and the quality of the decisions that were made in regard to the company direction," said Michael Wright, President and Chief Executive Officer of Inolife. "We are honored by the great vote of confidence made by such esteemed pharmaceutical industry experts to make investments in Inolife."
Inolife is also proud to announce the nomination of Dr. John Leombruno to its Board of Directors. The addition of Dr. Leombruno's 20 years of business, pharmacy and pharmaceutical industry experience will allow Inolife to continue positively impacting the world through the various markets its injectable technologies are serving.
"It is a pleasure to join Inolife as a member of the board," said Dr. Leombruno. "I am eager to help the Inolife team in bringing its needle-free injection technologies to market so that we can help patients avoid traditional needles and to develop devices that simplify drug administration."
"I have been serving patients in the pharmaceutical industry for more than two decades and we are on the threshold of a new era in healthcare. I believe Inolife is well positioned to have an impactful role in the compliancy and humanization of patient care."
About Dr. John Leombruno
Formally trained as a Pharmacist, Dr. Leombruno has earned his MBA, and a PhD in Pharmacoepidemiology.   Dr. Leombruno was a co-founder of Patient Direct, an integrated Specialty Pharmacy and Patient Program provider which was sold to McKesson Canada in 2010.  He also co-founded GMD PharmaSolutions which was an integrated Pharmaceutical Importer/Wholesaler, Specialty Pharmacy, Patient Program and Physician Program provider, which was also recently sold to McKesson Canada,
Dr. Leombruno has had responsibility and executive level experience in many areas of the pharmaceutical industry including market access, medical information, pharmacovigilance, medical affairs and business development.
About Inolife R&D Inc. / Inolife Sciences Corporation
Inolife R&D Inc. is a life science company and an innovation leader in needle-free injection technologies. Inolife commercializes patented and FDA-cleared needle-free injection devices and intends to soon start the commercialization of a whole suite of prescription drugs. The company was founded to take advantage of novel techniques of the liquid jet and ballistics-based epidermal drug injection that improve patients' quality of life by making medicines easier to administer, work better, and remove the anxiety and inconvenience associated with hypodermic needle injections.
For more information about Inolife and its products, please visit www.inolifesciences.com.
Contact:
Michael Wright
President & CEO, Inolife R&D Inc.
Phone: 1 (866) 834-3777
Email: mwright@inolifesciences.com
FORWARD-LOOKING STATEMENTS
Certain statements contained herein are "forward-looking" and are based on the opinions and estimates of management, or on opinions and estimates provided to and accepted by management. Forward-looking statements are subject to a variety of risks and uncertainties and other factors that could cause actual events or results to differ materially from those expressed or implied. Readers are therefore cautioned not to place reliance on any forward-looking statement.
Source: Inolife Sciences
Share:
---
Categories: Healthcare and Medical News, Pharmaceuticals and Biotech
Tags: Board of Directors, John Leombruno, Private Placement

Martin Beland
VP of Marketing & Communications, Inolife Sciences Corporation
Inolife Sciences Corporation
1, Yonge Street (Suite 1801)
Toronto, Ontario M5E 1W7
Canada