Inolife Announces New Advisory Board Member
World-Renowned Diabetic Researcher Dr. Camillo Ricordi Joins Advisory Board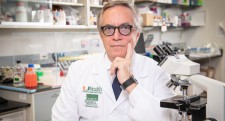 TORONTO, February 28, 2019 (Newswire.com) - Inolife R&D Inc. ("Inolife"), an emerging life science company and innovation leader in comprehensive needle-free injection solutions, is pleased to announce it has named Camillo Ricordi, M.D. to its Advisory Board.
"As one of the world's leading diabetes researchers, we know Dr. Ricordi will help us in our mission to inject well-being through innovation," said Inolife President & CEO Michael Wright. "His expertise will be invaluable as we work to further develop needle-free injectable solutions and nanoparticle powder pharmaceuticals."
Dr. Ricordi serves as Director of the Diabetes Research Institute at the University of Miami (UM). There, he holds the Stacy Joy Goodman Chair in Diabetes Research and is a Professor of Surgery, a Distinguished Professor of Medicine, Professor of Biomedical Engineering, and Professor of Microbiology and Immunology. He is well known for his cure-focused diabetes research and cell transplantation innovations that are used in centers around the world. The brilliant scientist used cell transplants to pioneer the first successful bioengineered endocrine pancreas transplant. He holds 26 patents and was inducted into the National Academy of Inventors in 2018.
"It is my professional life mission to help people who have diabetes. Inolife's synergistic mission makes us excellent strategic partners," said Dr. Ricordi. "Inolife technology allows diabetes patients to inject their medication without needles, with the objective of increasing care plan compliance and improving overall outcomes. I look forward to working with Inolife to positively impact the world through novel drug delivery system development."
As a clinical researcher, Dr. Ricordi embraces needle-free injection technologies in a variety of applications, beyond insulin delivery. Needle-free injections are the preferred method for achieving clinical immunogenicity and safety when injecting novel drugs, biosimilars, and heavy complex molecules such as DNA vaccines. Inolife's needle-free injection technologies represent superior drug delivery solutions that pharmaceutical companies, contract research organizations, and universities count on to provide safe and consistent results. Dr. Ricordi noted, "In a time of rapid innovation, we must move past outdated drug delivery systems. The hypodermic needle syringe was invented in 1853 and now, more than a century later, I'm excited that we are finally seeing innovation ready to enter the market, I'm looking forward to collaborating in the development of Inolife's next-generation technologies."
ABOUT INOLIFE R&D INC./INOLIFE SCIENCES
Inolife R&D Inc. is a life science company and an innovation leader in needle-free injection technologies. Inolife commercializes patented, FDA-cleared, needle-free injection systems. Founders built the company to take advantage of novel techniques of the liquid jet and ballistics-based epidermal drug injection that improve patients' and healthcare workers' quality of life by making medicines easier and safer to administer, work better, and remove the anxiety and inconvenience associated with hypodermic needle injections.
For more information about Inolife and its products, visit www.inolifesciences.com.
FORWARD-LOOKING STATEMENTS
Certain statements contained herein are "forward-looking" and are based on the opinions and estimates of management or on opinions and estimates provided to and accepted by management. Forward-looking statements are subject to a variety of risks and uncertainties and other factors that could cause actual events or results to differ materially from those expressed or implied.
Contact: Michael Wright
President & CEO, Inolife
Phone: +1 (866) 834-3777
Email: mwright@inolifesciences.com
Source: Inolife
Share:
---
Categories: Healthcare and Medical News
Tags: Camillo Ricordi, Diabetes, DNA vaccines, Inolife, Needle-Free
---
Inolife R&D Inc.
1, Yonge Street (Suite 1801)
Toronto, Ontario M5E 1W7
Canada