Inolife Announces Another Partnership in the Medical Cannabis Space With Empower Clinics
Inolife and Empower Clinics confirming a distribution agreement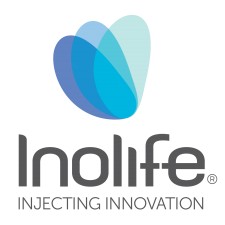 TORONTO, October 22, 2018 (Newswire.com) - ​Inolife R&D Inc. ("Inolife"), an emerging life science company and innovation leader in comprehensive needle-free injectable solutions, is pleased to announce a national distribution agreement with Empower Clinics Inc., a leading owner, and operator of medical cannabis and wellness clinics in the United States.
Under the agreement, Seattle-based Empower Clinics will make Inolife's needle-free injection solutions available to patients at their clinics in Oregon, Washington, and Illinois. Since its inception, Empower has treated more than 123,000 patients and recently acquired a telemedicine portal allowing members on-demand access to medical marijuana doctors, cannabis information and available treatment options.
Inolife is committed to bringing its technologies to new markets, including medical cannabis

Michael Wright, President & CEO
Inolife developed its Inojex and Nanojex needle-free injection technologies to be user-friendly, safe, virtually pain-free and more efficient in delivering medicine to patients than traditional needle-based injections. The needle-free category has experienced sustained double-digit growth over the past five years.
"This partnership is an exciting opportunity and one that aligns with our expansion strategy," said Craig Snyder, Empower CEO. "We believe that working with Inolife will distinguish us with targeted medicinal cannabis solutions while enhancing the care we provide to patients."
"Inolife is committed to bringing its technologies to new markets, including medical cannabis," said Michael Wright, President & Chief Executive Officer of Inolife. "We look forward to working with Empower to serve its patients."
Empower Clinics is Inolife's first cannabis clinic partner in the United States. According to Forbes[1], legal cannabis revenue in the U.S. market is projected to hit $23.4 billion by 2022. During the same period, Canada is projected to reach $5.5 billion.
ABOUT EMPOWER
Empower is a leading owner and operator of medical cannabis and wellness clinics, as well as a developer of medical products in the US, focused on enabling individuals to improve and protect their health. The company provides treatment solutions through its physician-staffed clinics that are focused on education, data, and efficacy. Empower is a recognized leader and the first choice for patients seeking quality experience and improved health.
For further information about Empower please see the Company's website, at www.empowerclinics.com.
ABOUT INOLIFE R&D INC./INOLIFE SCIENCES
Inolife R&D Inc. is an emerging specialty medical device company focused on developing and commercializing novel drug delivery technologies. Inolife commercializes patented and FDA-cleared needle-free injection systems. The company was founded to take advantage of novel techniques of the liquid jet and ballistics-based epidermal drug injection that improve patients' quality of life by making medicines easier to administer, work better, and remove the anxiety and inconvenience associated with hypodermic needle injections.
For more information about Inolife and its products, please visit www.inolifesciences.com.
Certain statements included in this press release constitute forward-looking information or statements (collectively, "forward-looking statements"), including those identified by the expressions "anticipate", "believe", "plan", "estimate", "expect", "intend", "may", "should" and similar expressions to the extent they relate to the Company or its management. The forward-looking statements are not historical facts but reflect current expectations regarding future results or events and are therefore based on current expectations and various estimates, factors, and assumptions and involve known and unknown risks, uncertainties and other factors.
Contact:
Michael Wright
President & CEO, Inolife R&D Inc.
Phone: +1 (866) 834-3777
Email: mwright@inolifesciences.com
[1] https://www.forbes.com/sites/thomaspellechia/2018/06/26/in-2017-beyond-u-s-enjoys-the-highest-legal-cannabis-market-share-worldwide/#42ae6a042d20
Source: Inolife Sciences
Share:
---
Categories: Healthcare and Medical News
Tags: Cannabis, Distribution, Empower, Inolife
---
Inolife R&D Inc.
1, Yonge Street (Suite 1801)
Toronto, Ontario M5E 1W7
Canada